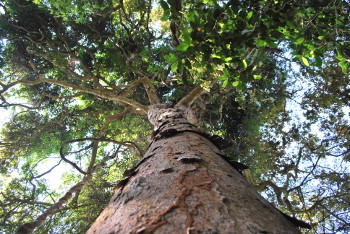 The research professors and pedagogic staff at GEEFT group spend half of their working programme on research activities. The group will also periodically integrate several invited doctorate scientists, whom the students will come into contact with and learn from throughout the programme. The scientific orientations of the GEEFT group can be defined by three principal programmes which structure the research as well as the teaching activities :
The analysis of the mechanisms of continental tropical ecosystems. Ecosystems, and especially tropical forestry ecosystems, play a determinant role in the environment : biodiversity reservoirs, complex climatic interactions, regulation on the principal cycles of hydrology...
The analysis of (practical) management of tropical forestry ecosystems, at both local and global scale, founded on an articulation between technical and social science made possible by the acquired knowledge of ecosystems, biodiversity, sociology,
The evaluation and definition of public forestry management policies at local, national, and international level.
Given the extremely wide diversity of disciplines implicated in the study of tropical forestry ecosystems, and the complexity of issues associated with it, GEEFT maintains a policy of associating and involving experts from other research institutions.
Three specific research programmes have been developed :